Weekly Briefing
Seagull Weekly Briefing 02/05
All the top stories from across the city.
Good morning, and welcome to the Brighton Seagull's Tuesday Briefing! We hope you had a wonderful bank holiday weekend, we certainly did: our editor had her first hammock sesh of the year (even if she needed a blanket during it).
We've officially sold half of the tickets available for our launch event this month—to find out more and to book your ticket, click the link below. We'd love to see you there! Yes, you specifically!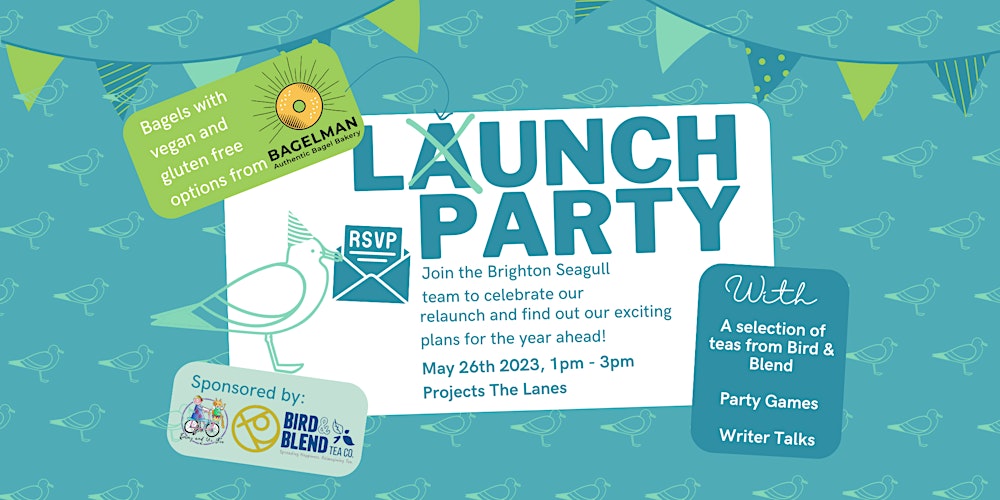 📈
This edition of
The Brighton Seagull
is sponsored by
Cybersyn
, a friendly digital analytics consultancy based right here in Brighton.
News This Week
Whitehawk FC promoted after weekend win
The Seagull is delighted to report that Whitehawk FC have been promoted back up to the Isthmian Premier Division after a 1-0 win against Hythe Town.
With 1,428 people at The Enclosed Ground to witness the win on Saturday night, they won with a free kick slammed into the goal from 25 yards by Charlie Harris just before half time.
Isaac Gleave, who wrote the match report for Whitehawk FC, said:
This was a night for the ages, for the patient many, and for the club and community as a whole.

But remember this: it was not won by one player, by a home support or a sloped pitch. It's the unity as a whole, camaraderie like no one before. From August to April this has been a collective effort, all striving together as one band, one club. And when the recipe is faultless, the result is sweet.
The season opened back in August with 143 people watching Whitehawk draw 0-0 with K Sports. The team were relegated from the Isthmian Premier Division back at the end of the 2018–19 season, and have worked hard since to be promoted back up: we know they'll keep going up from here but, until then, we hope they bask in the glory of their win. After Albion lost on penalties at Wembley the other weekend, we're glad one Brighton team is racking up the wins.
---
Crowdfunder launched for homelessness memorial
Making It Out, a charity that helps people to move on from prison, homelessness and addiction through creativity, has launched a fundraiser for a sculpture to commemorate people who have died while homeless, with a design 'originat[ing] from people who had experienced homelessness and families and friends of those no longer able to contribute'.
The Homeless Deaths Memorial Sculpture is planned for Brighthelm Gardens; a spokesperson for Making It Out said:
Brighthelm Centre and Church have a long history of supporting homeless groups with one of the earliest support groups operating from the crypt in the church.

Placing the sculpture here will make it visible for millions of visitors to Brighton who walk down the hill towards the seafront, helping to bring awareness to the issue.
According to Shelter, the average age at death for homeless people is 45 for men and 43 for women, more than 30 years younger than than the average age at death of the general population. In 2021, an estimated 741 homeless people died in England and Wales—51% higher than when records began in 2013.
The project aims to create peaceful and meaningful artwork that provides solace and a place to mourn, highlight the risks associated with homelessness and encourage people who are homeless to seek help, and to bring the issue of homeless deaths to a wider audience and encourage the public to support local organisations and campaign for change.
To find out more, and to donate, click here.
---
📣
Want to read more stories like this? Subscribe for our weekly email newsletter
here
.
---
🖋 News in Brief 🖋
The council has started on work to improve lighting in Pavilion Gardens, changing the lights to LED, after the area has been identified as one of common anti-social behaviour. The council's Community Safety and Transport teams, working with Sussex Police said 'upgrading the lighting will help people feel safer in the area'. The work is being paid for by the Safer Streets Fund, which focuses on making public spaces safer for women and girls.
Clay the boxer, Cardinal Newman Catholic School's 12-year-old therapy dog, has died after a sudden, short illness, having lost the use of his back legs. Lisa Amicucci, pastoral attendance manager, described him as a 'lover of tennis balls, lover of people, lover of life'.
🗞️
If you have a story for Seagull, please get in touch with our editor at
[email protected]
.
The Big One
Council elections this week
What's happening? The council elections are this week!
When?! Thursday!
What time? All day, from 7am to 10pm!
Interesting. What do councillors even do? We've got a really good explainer on that here but, essentially, councillors work between 5 and 30 hours a week, depending on how many committees they are members or chairs of, and whether they hold any bigger positions such as Leader of the Council or Mayor. They attend monthly council committee meetings, board meetings, and the annual budget meeting, as well as holding monthly drop-in surgeries for their constituents. On top of that, they'll attend meetings for any additional committees they are members or chairs of. In these meetings, they will discuss, develop, and review council policy, as well as voting on other decisions within their remit.
Sounds fun! Who am I voting for? Depends on which of the 23 wards in Brighton and Hove you live in. Note: these are new wards, the boundaries have changed since the last local election, so your polling station might be different—make sure you check your polling card, or check Where Do I Vote.
How many councillors can I choose? No more than two or three, depending—it will say on your voting sheet.
Do you have a list of all the candidates? Here, all 222 of them!
So I can just rock up and vote for whoever I want? Not so fast: you need ID for the first time this year. You can find accepted IDs here.
What's the breakdown by party? Labour and the Green Party are each putting forward a full slate of 54 candidates, Conservatives have 50 candidates, and the Liberal Democrats have 30 candidates and are hoping to elect their first councillor in more than ten years.
The Brighton and Hove Independents have nine candidates, Trade Unionist and Socialist Coalition (TUSC) and the Friends of Brighton and Hove Party both have eight candidates each, UKIP have three, Reform UK have one, and five independents are standing.
How many councillors are standing down? 21, more than a third: nine Green, six Labour, three Conservative, three independents. They include John Allcock and Carmen Appich, co-leaders for the Labour group, Tom Druitt, Mayor Lizzie Deane, David Gibson, Elaine Hills, Tony Janio, Mary Mears, Robert Nemeth, Alex Phillips, Nancy Platts and Dan Yates.
What can I do to help? If your friends are running to be councillor, just be there for them. They're probably extremely stressed and tired from campaigning right now. And if you have time, volunteer to go door-knocking with them! I'm sure they'll appreciate it greatly.
So turn up from 7am-10pm, with ID, and vote for two or three people of my choice? Yep!
Easy peasy! Exactly!
🎉
That's all for this week—please
subscribe
, and forward to friends who might be interested!