Weekly Briefing
Seagull Weekly Briefing 15/05
📸Flasher rampages uncorrected, Labour and Greens leader/deputy leaders elected, Mile Oak Library closure expected and more.📚
...What do you mean today isn't a third bank holiday Monday? Okay, fine, fine. Good morning, and welcome to the Brighton Seagull's Monday Briefing. (Don't worry—there's another one in a few weeks)
🎧
Want to listen to the Briefing? It's also available as a podcast, which you can find
here
.
Have you booked your tickets to our relaunch party next week? If not, why not? We're asking a lot of questions right now, apologies.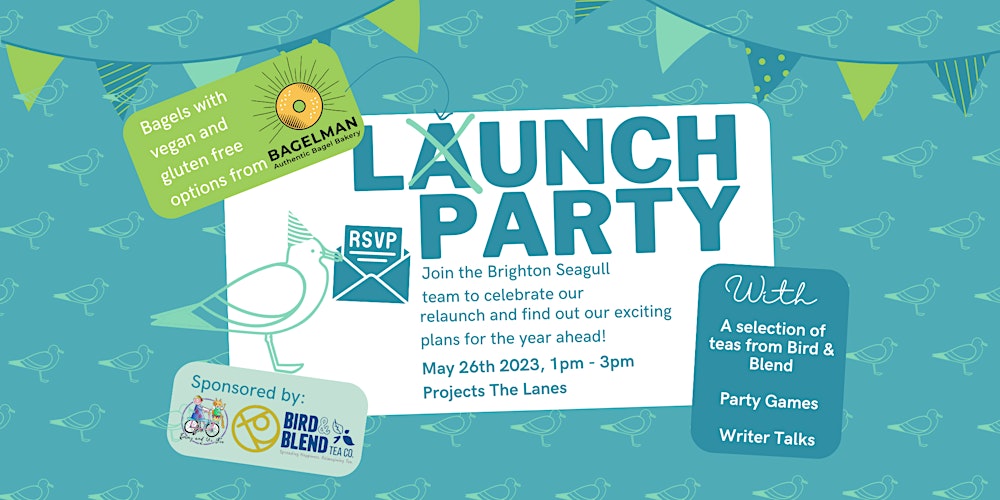 Also, if you've not yet read last weeks' longread, Ross Othen-Reeves' look at Brighton's attitudes toward the monarchy over time, get on that:
📈
This edition of
The Brighton Seagull
is sponsored by
Cybersyn
, a friendly digital analytics consultancy based right here in Brighton.
News This Week
Labour and Greens elect leader and deputy leader
Brighton Labour have elected their leader, deputy leader and the rest of the team making up the majority council, and Brighton and Hove Greens have elected their opposition leader.
The 38-strong Labour councillors elected Bella Sankey as leader of the group straight after the count on Friday 5th May, which also makes her the leader of the council.
On Tuesday 9th May, they elected Gill Williams as deputy leader and Jacob Taylor as second deputy leader and finance lead. Les Hamilton will serve as chair and Paul Nann will be deputy chair. Amanda Grimshaw is the new chief whip, with Jacob Allen and John Hewitt elected as deputy whips, Jilly Stevens is the new secretary, and Joy Robinson the treasurer.
For the Greens, Steve Davis is the leader, making him the leader of the opposition. Rounding out the rest of the team among the seven Green councillors are Sue Shanks and Pete West as deputy leaders.
---
📣
Want to read more stories like this? Subscribe for our weekly email newsletter
here
.
---
🖋 News in Brief 🖋
The new Sea Lanes 50m swimming pool is set to be opened by Olympic medallist Kerri-Anne Payne on Thursday 1st June (by invite only), before its public opening on Friday 2nd June. The five-lane pool will be heated; visitors can pay for membership or pay per swim. There are also beachside cold showers and lockers available for sea swimmers to use free of charge.
A flasher is on the loose in Woodingdean—'on the f**kin rampage' said one resident. The resident, who did not wish to be named, said the police were called to the 'bloke on the fields exposing himself' but didn't make any arrests. To any would-be flashers: c'mon lads, it's not the eighties anymore, you can't be doing that, not since #MeToo.
🗞️
If you have a story for Seagull, please get in touch with our editor at
[email protected]
.
The Big One
Mile Oak Library closure consultation
What's happening? A consultation is being held for four weeks on closing the library in Mile Oak.
Why? The council say it's 'part of the city-wide savings plan to address the budget gap, agreed by councillors at the Brighton & Hove City Council budget meeting in February 2023'.
On what basis was this decided? Low visitor numbers compared with other libraries (Mile Oak Public Library averaged 150 visits per month between April 2022 and March 2023), likely not helped by it having been moved into Portslade Aldridge Community Academy and the opening times being 2pm to 5pm in the week. Also, the cost: the average cost per customer visit is £19.02, compared to 78p across all other Brighton and Hove libraries.
What exactly is the council proposal? That Mile Oak Public Library will close to customers on Friday 21st July.
What have people said? Lots of criticism around moving the library in the first place, making it harder to access—and the decision being a foregone conclusion, as the council have already removed the funding for the library.
Former Portslade Labour councillor, Penny Gilbey, said:
Unfortunately, despite an amendment by our local ward councillors to reverse this and alternative funding already found, this basic service for our local families was rejected.

Our library is now the only council run service we have left here for ALL our community to use but has been systematically run down and virtually abandoned since COVID-19.

Instead of BHCC, who are the landlords and still own the land, promoting it they want it closed. Even though recently it has been used as a warm space for vulnerable people during the energy crisis although no funding was actually given over here to support it.

We should be investing in our young people and families not removing basic services and neglecting our wider community.

The community still has a fight on its hands.
What can I do to help? Fill in the consultation, and tell the council your views on the closure.
🎉
That's all for this week—please
subscribe
, and forward to friends who might be interested!