Weekly Briefing
Seagull Weekly Briefing 22/05
🏄‍♀️Ukraine tribute sculpture on show, surfers say sewage must go, congratulations to Moisés Caicedo and more ⚽️
Good morning, and welcome to the Brighton Seagull's Monday Briefing. We hope you've been enjoying the sunshine, but for those of you who prefer sitting in dark rooms, there's the Fringe—our roundup of Week Two is here:
If you've not already seen it, this week's feature is our longest piece to date: a rundown of all the shows our reviews team was able to cram into their mad scramble around venues large and small for The Great Escape:
Finally: the Seagull Launch party is this Friday! Get your ticket now, come on down, get some free stuff!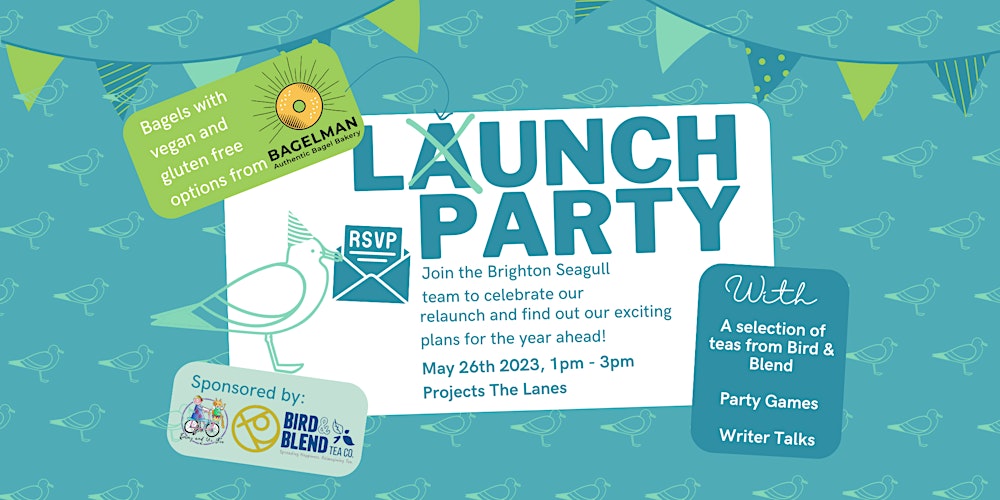 📈
This edition of
The Brighton Seagull
is sponsored by
Cybersyn
, a friendly digital analytics consultancy based right here in Brighton.
News This Week
Brighton Albion earn a place in the Europa League
Brighton and Hove Albion Football Club will be playing in Europe for the first time in the club's history next season.
While the league is not yet quite confirmed, they're set to play Aston Villa on Sunday, who have a goal difference of four compared to Albion's goal difference of 20. A seventh-place win would put them in the Europa Conference League, while higher sees them in the Europa League (third tier vs second tier basically).
They're guaranteed a top-seven finish, and the chances of them finishing even higher is likely.
A 3-1 win against Southampton clinched the victory, with two goals scored by Evan Ferguson and one by Pascal Gross (very good match report here, we are not football reporters).
In the 2022-2023 Europa League, teams included AS Roma, Barcelona, and Monaco.
---
Ukraine tribute on show in Valley Gardens
A tribute for Ukraine has found a home in Valley Gardens.
The 13-foot steel sculpture, which was made by Peter Naylor and has been touring the country, was created by art group Standing With Giants.
It depicts a soldier with a baby, next to a woman and child, and reads 'Brighton standing with Ukraine standing with giants'.
Dan Barton who worked alongside the artist said:
Ukrainian refugees and charities have been invited to visit and use the installation to help raise awareness and funds for those suffering in Ukraine.

Art can send a powerful message to aggressors and show a meaningful message of solidarity to those in need. Everywhere we take this sculpture, we see an outpouring of emotion.
Mayor Lizzie Deane attended the opening, and said how 'pleased and proud' the city is to welcome Ukrainian refugees. She said:
This sculpture will serve to remind residents and visitors alike of their presence within our community, and our willingness to help and support them as much as we can for the duration of this terrible conflict.
It will be in Valley Gardens, near the fountain, until Wednesday 31st May.
---
📣
Want to read more stories like this? Subscribe for our weekly email newsletter
here
.
---
🖋 News in Brief 🖋
Van Gogh Alive, the planned Van Gogh exhibition at the Corn Exchange, has finally opened! What Corn Exchange, you might be asking? The newly refurbished one next to Brighton Dome! No rap singers have been spotted in the vicinity. It runs until September.
The team behind the homeless memorial crowdfunder are four days from the end of the fundraiser, and have launched a new offer: everyone who pledges £10 will receive a hand painted fallen leaf pin badge as a thank you.
The Seagull is sad to note the passing of former mayor and Labour councillor Brian Fitch, who died at the age of 82. Upon first being elected to Brighton Borough Council in the early seventies he was councillor for Elm Grove, later representing Hanover, Hollingbury, and campaigning in Hangleton and Knoll.
Happy birthday for yesterday to friend of The Seagull, Gemma Rogers!
🗞️
If you have a story for Seagull, please get in touch with our editor at
[email protected]
.
The Big One
Surfers Slam Southern Sewage Slew
What's happening? Not a good week for Brighton beaches, as Brighton Central beach loses its Blue Flag status, and Surfers Against Sewage supporters took to the sea to protest against Southern Water's continual sewage dumping.
Not good! Not at all. Southern Water have also said, although they are disappointed by it, the loss of the Blue Flag status is not their fault, saying:
There were no releases from Southern Water's storm overflows which would have an impact on Brighton's bathing waters last year.
What does that mean for the beach? The Environmental Agency docked the beach's water quality classification from excellent to good, so its water categorically is not as good as it used to be. Hove Lawns beach still has a Blue Flag though.
About this protest? Yeah! It was part of a national day of action but centred in Brighton. Protestors took to the sea on paddleboards, wearing gas masks and with placards, to protest water companies dumping raw sewage in bodies of water.
How did it go? Stu Davis, the regional rep for Surfers Against Sewage in Brighton, said:
The protest has gone brilliantly. This shows how much people in Brighton and beyond feel about this.

The message we are sending is quite clear: we want Southern Water to end sewage discharges by 2030.

Currently their actions feel a bit too little too late. We want to see a curb to these discharges and the government need to put in place strong regulations.
What have Southern Water said in response to the protest? Nick Mills, head of Southern Water's clean rivers and seas task force, said they have already made 'significant investment' in the city, and made a 'major reduction' in spills thanks to a seven-mile sewer under the chalk cliffs towards Peacehaven. He said:
This massive infrastructure project ensures that the 95 million litres of wastewater on average per day generated from Brighton and the surrounding areas is fully treated.
What can I do to help? Keep holding  water companies and elected representatives to account!
🎉
That's all for this week—please
subscribe
, and forward to friends who might be interested!